Window Reproduction Gallery
Silicone sealers are promoted and specified as a solution to eliminating modern lumber vulnerability to early decay. We however, only use wood species which are naturally resistant to decay. To conform to spec, we apply the penetrating silicone sealer to all surfaces.
Stack lamination bending technique is a staple, modern glues make this process all the more enduring.
This photo is from 2007. The sash is from Eastern Market. This operation with shaper is grooving sash for weatherstripping.
Ocular windows for Eastern Market in Spanish cedar.
Mass production techniques for a small run, make for precision parts.
Large tenon with large glue surfaces provide excellent connection for rail and stile in curved sash.
Stack lamination provides for efficiently made, strong sash.
These are solid mahogany sash reproductions made for the GSA headquarters. They reproduce historic details while providing or 5/8" thick blast slash insulating glass.
Mahogany sash will go back operable at the GSA headquarters, c. 1908.
This close-up is the glazing stop bonded and sanded flush to house the insulating glass panels.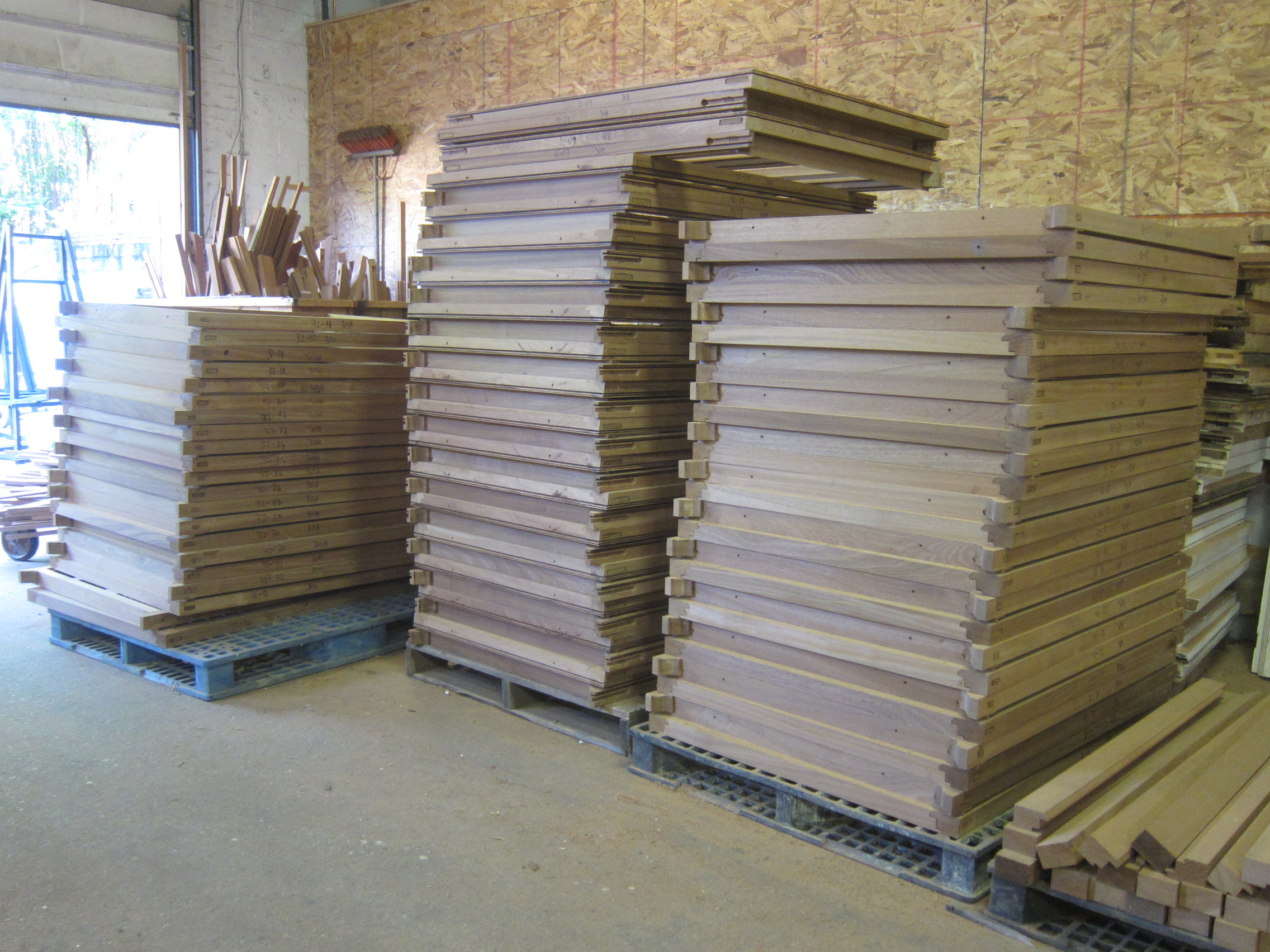 We produced 3600 sash like these, all bottom sash were made operable.
Sash parts manufactured and ready for assembly.
The metal strip is pure zinc, a durable and completely corrosion resistant metal. We use these metal weatherstripping profiles that were patented in 1890. They are still the most durable and effective.
These sash will go back to window frames that are 120 years old. Glass in them is insulating with low-E film and blast resistant vinyl interlayers.
More sash reproduction for Eastern Market. These extended tenons make for strong joinery in curve top sash.
These are the meeting rails in traditional sash it is the most complicated piece. When you add insulating glass it becomes even more technical.
Note the thin rectangles created as the pieces are stacked. This void is where the interlocking metal weatherstripping is applied creating a seal between top and bottom sash.
Tenons cut in the 19th century. This photo shows well how adding dowel pins to small and delicate tenons can erode their strength.
The meeting rail is the weakest link. The reproduction on the left is what is required. Square mortises in the middle receive the small muntin components and hear they will contribute to the strength and stability of the meeting rail.
Parts from the large transoms at the old post office were in need of structural enhancement. The animal hide based glues had failed and required new laminations and renewed joinery.
Basement windows on a Georgetown row house are usually poorly made, leaking, and frustrating, and more, they are difficult to restore to the same performance we get from old, double-hung windows. These sash are from N Street and here we made reproduction frame and sash because the decay was so advanced. If one wants good operable windows at these locations, new frames are likely required.
These mahogany sash reproductions receive a traditional drip edge molding and modern epoxy to seal end grain.
These curved sash are reproductions of replacement units on sleeping porches on Q Street.
The modest half lapped joinery used here at the Carnegie Library required reproduced the same, though not of ideal design. These sash are center pivot and so lightly stressed, therefore this joinery is adequate.
These frames are on the front of the old library now. Solid mahogany exact reproductions of the failed originals. The millwork at the Carnegie Library was not primitive but hardly state of the art-1900s.
Historic reproductions in solid mahogany with insulting glass for Apple Computers.
Coming through this table is a custom carbide router bit made to our specifications. This modern convenience allows us to do limited production runs fairly cost-effectively. The high speed router and carbide tip mean this relatively small diameter cutting head can make more than 100 windows.
Here we have the positive and negative profiles cut by two different knives. This cope fit is the essence of traditional millwork.