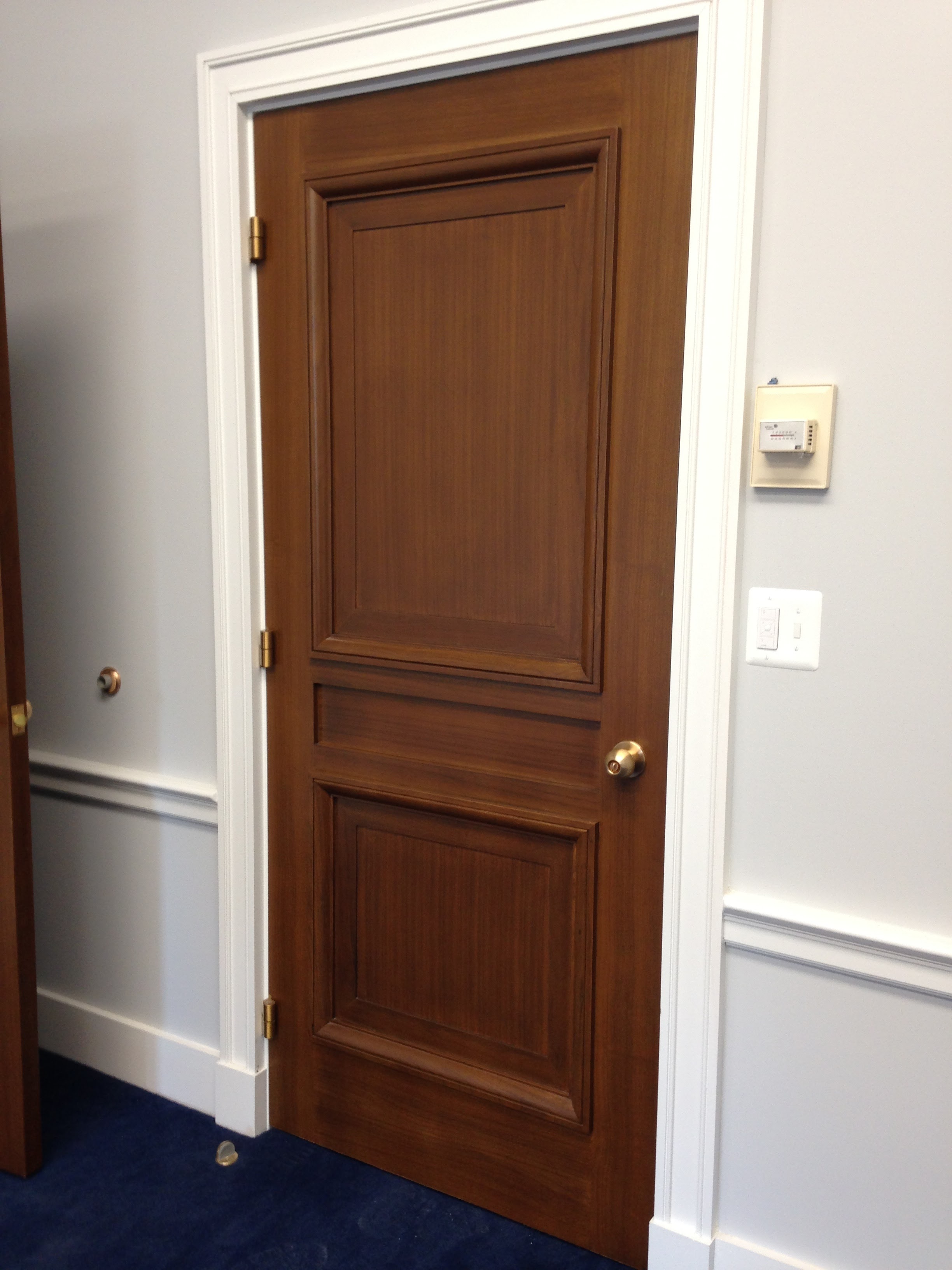 Rayburn House Office Building, built in the early 1960s had a curious and somewhat unusual tack on modernity reflected in its doors. These first two photos show the varied door faces, one with panels and bolection molding and the other completely flush. The architect of the capital had the original drawings where this type was called unbalanced, and I agree. A strange aesthetic to reinforce hierarchy. Only the door faces used by a member of Congress were elaborated and other faces flush.
It seems having a relatively fancy face and a simple one makes the door only half difficult to fabricate, but indeed, it is twice as difficult.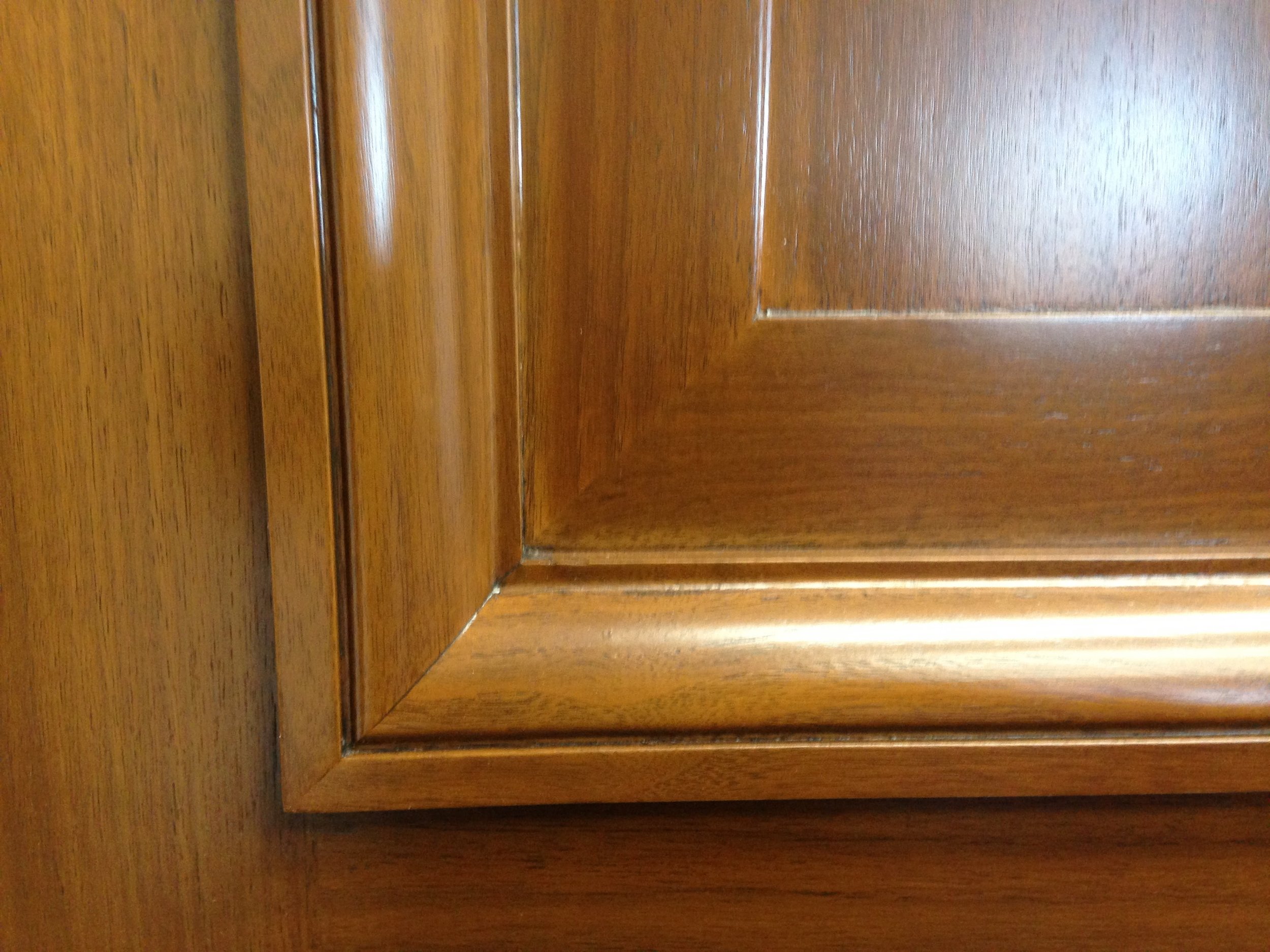 A handsome 60s take on door panel treatments. This too, more difficult than traditional raised panels.
These stave cores were specified by AOC to be solid wood, not particle board. The quality difference is something they know. The long-term durability of real wood is for them, proven. These cores go into a small segment of the 120 doors we made for Rayburn that would be flush on both sides.
Precise machining, correct sequence, and a modern surface sander are keys to flush door production. Everyday thousands of these doors are produced by large manufacturers. Here, it was our job, because the face veneers were required to be 1/8" thick by the AOC. Veneer this thick must be sawn and not sliced, so few woodworking facilities produce doors of this quality.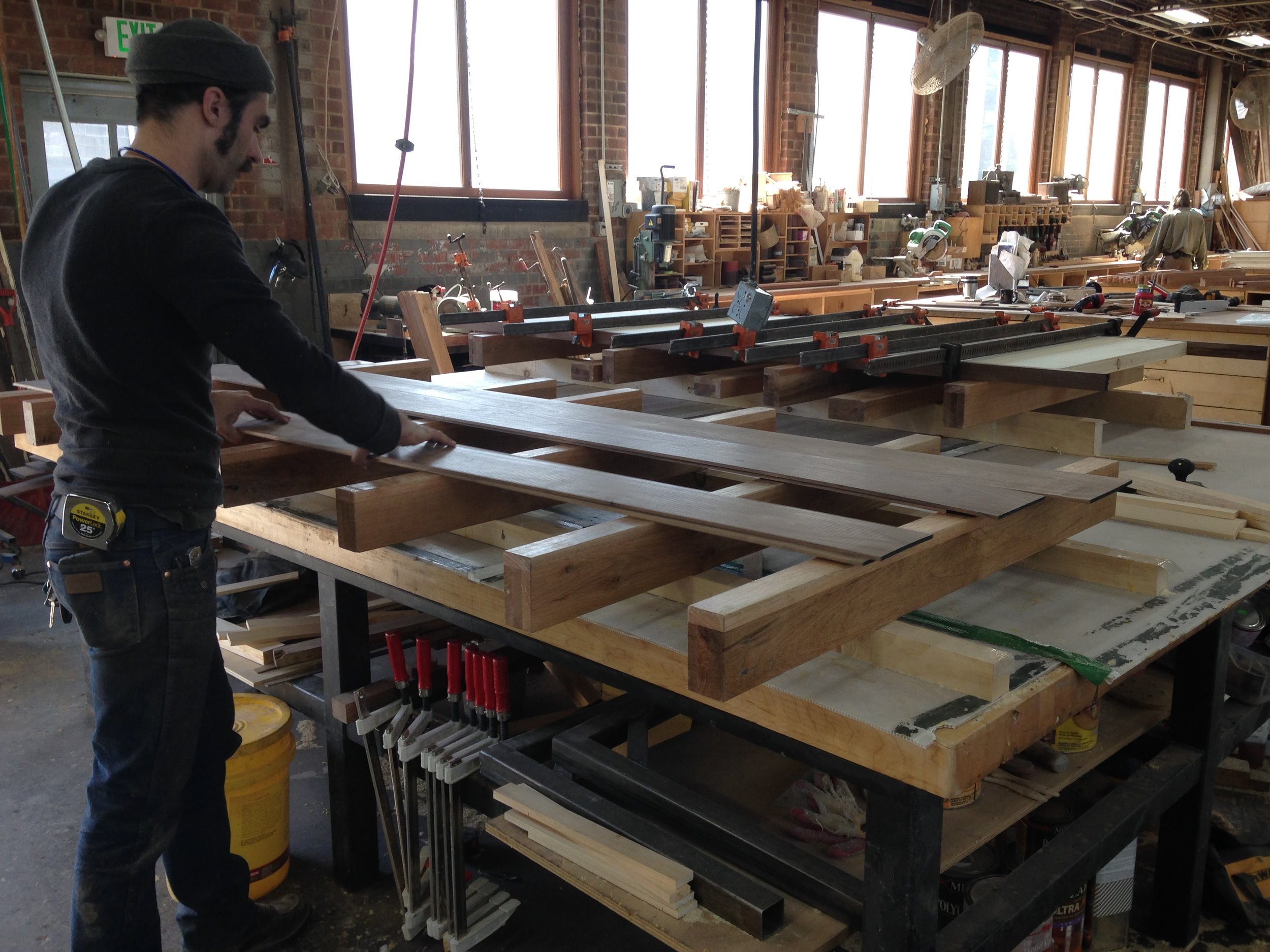 Here the premium walnut thick sawn veneers are grain matched and laid out for gluing.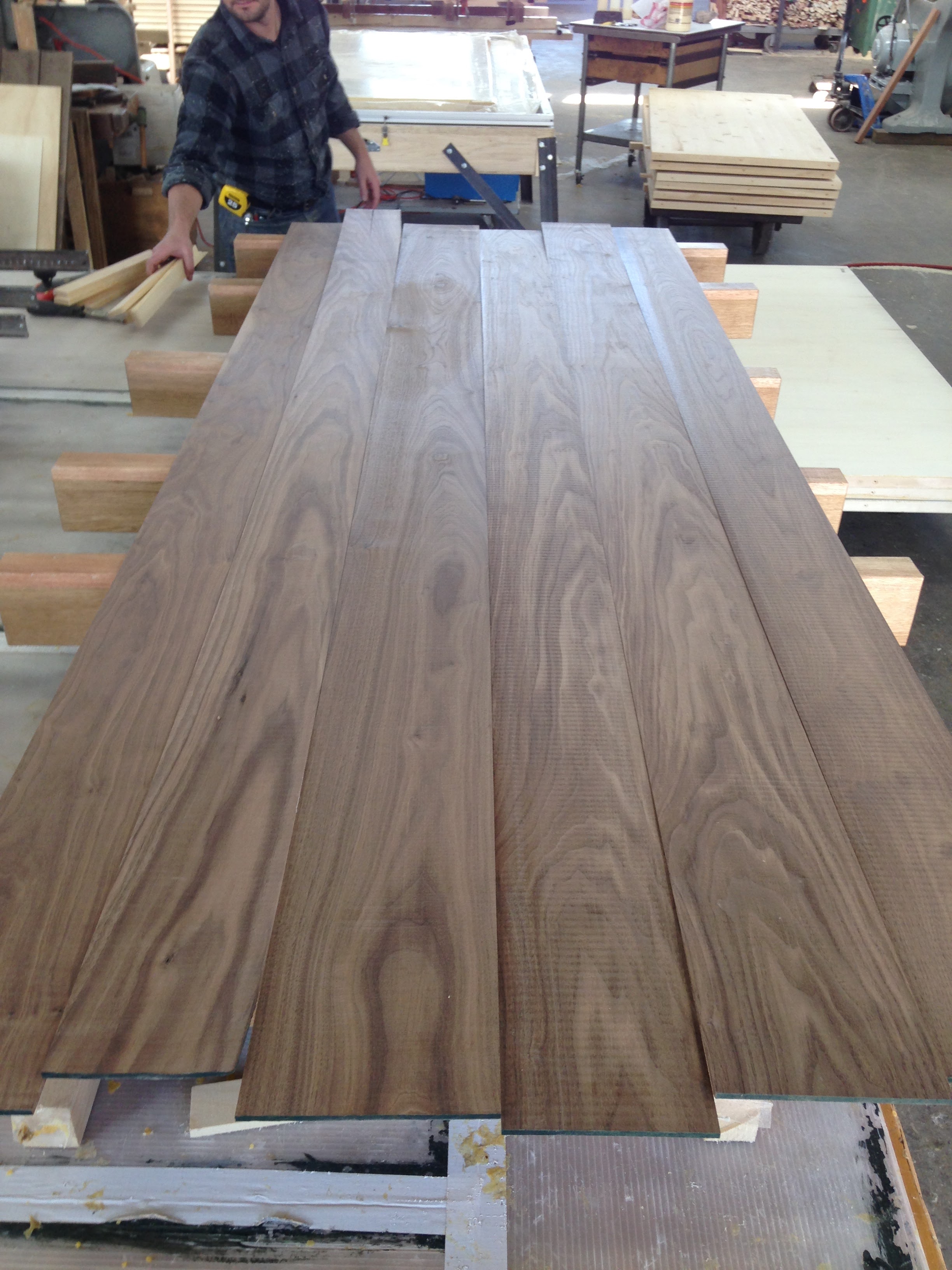 Premium American black walnut mostly goes to veneer mills. Just sourcing this 100% heartwood free of pin knots in board stock took a bit of looking.
This veneer, 1/1000th of an inch thicker than an 1/8 of an inch.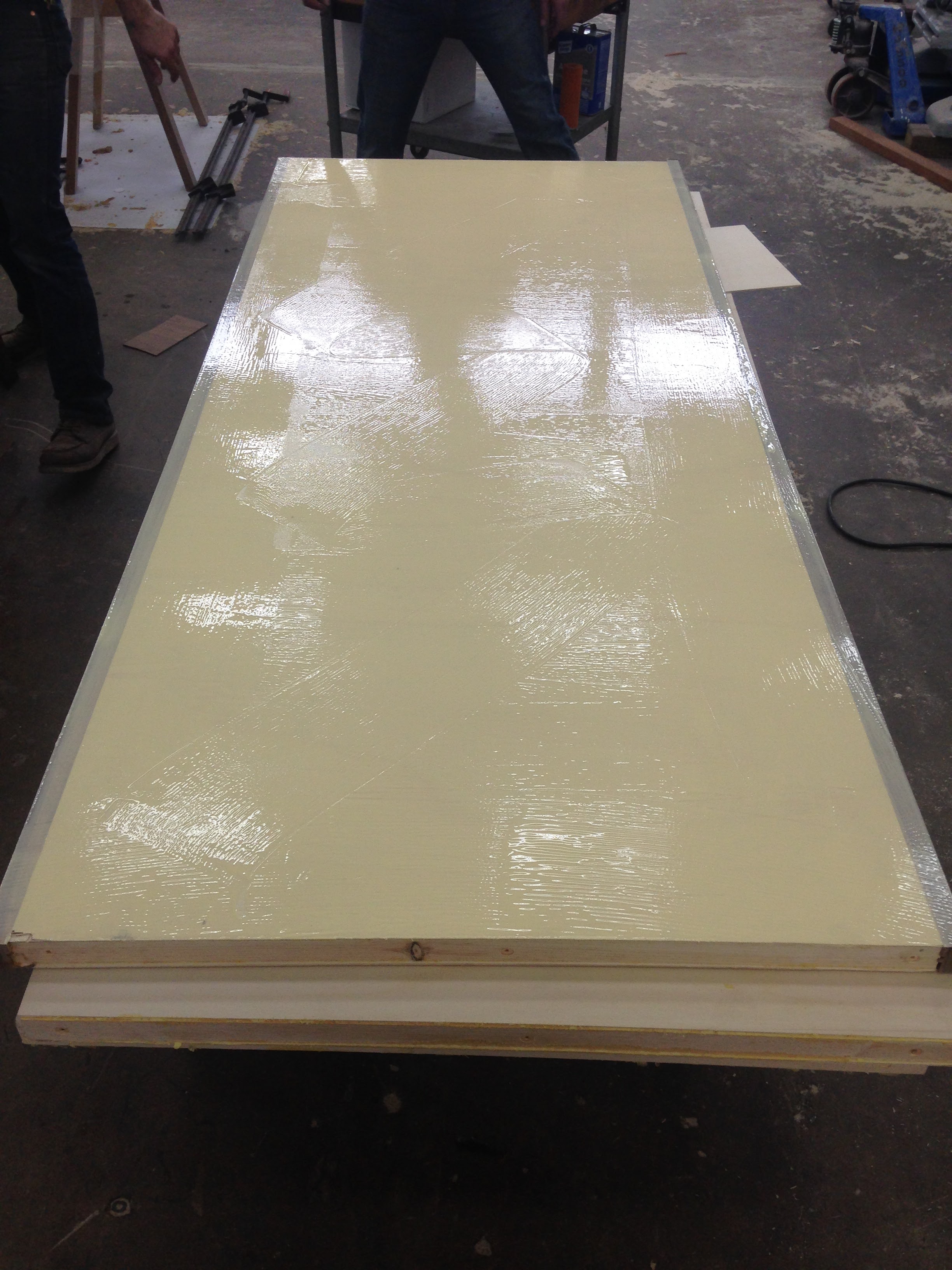 This door core with a coating of Titebond veneer-grade glue is ready for the press.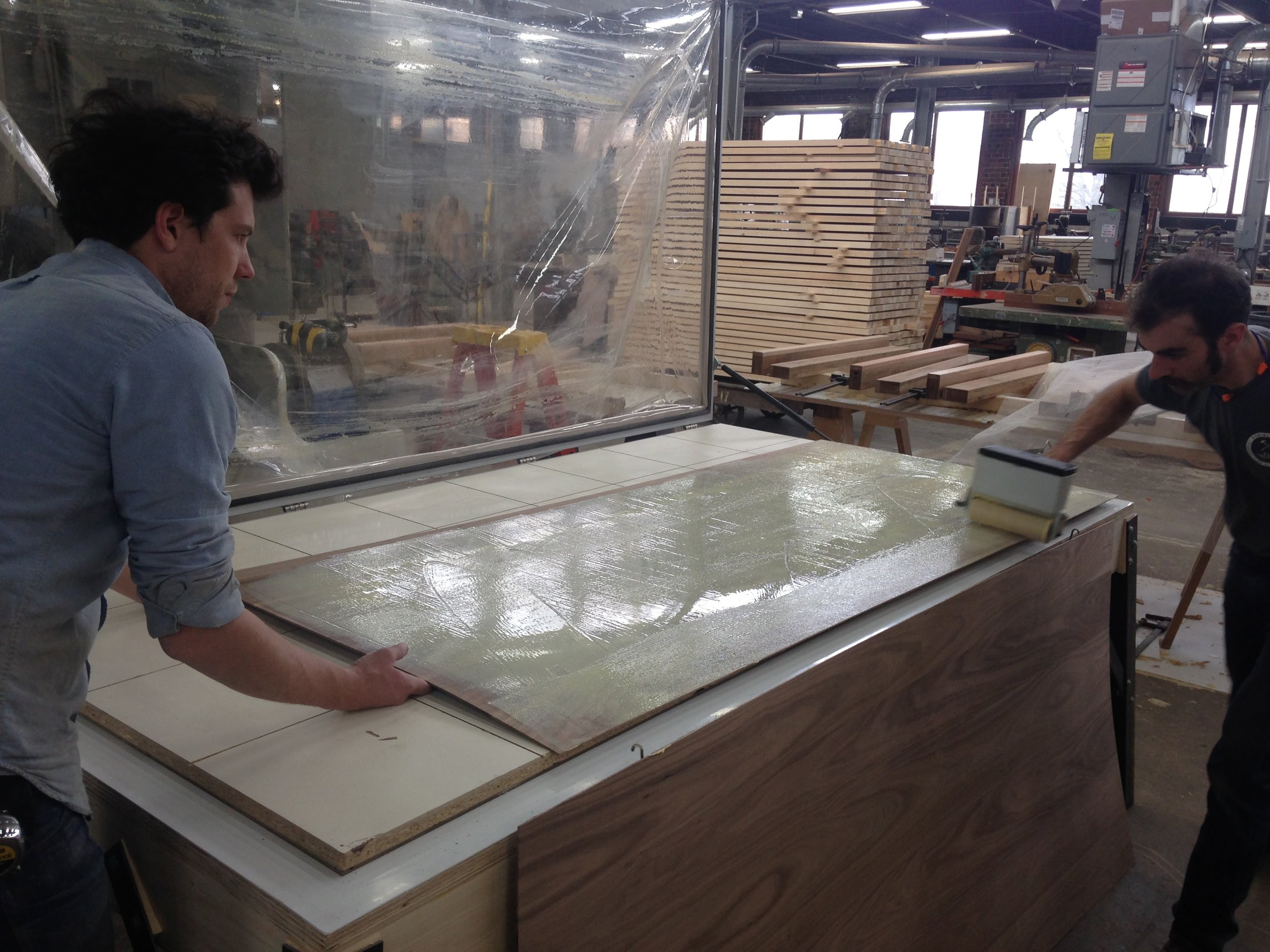 The foreground shows, as does the item being coated, a sawn walnut veneer 1/8" x 36" x 84". This is the maximum thickness most wood species would still act as a veneer and not take on the characteristics of board stock itself.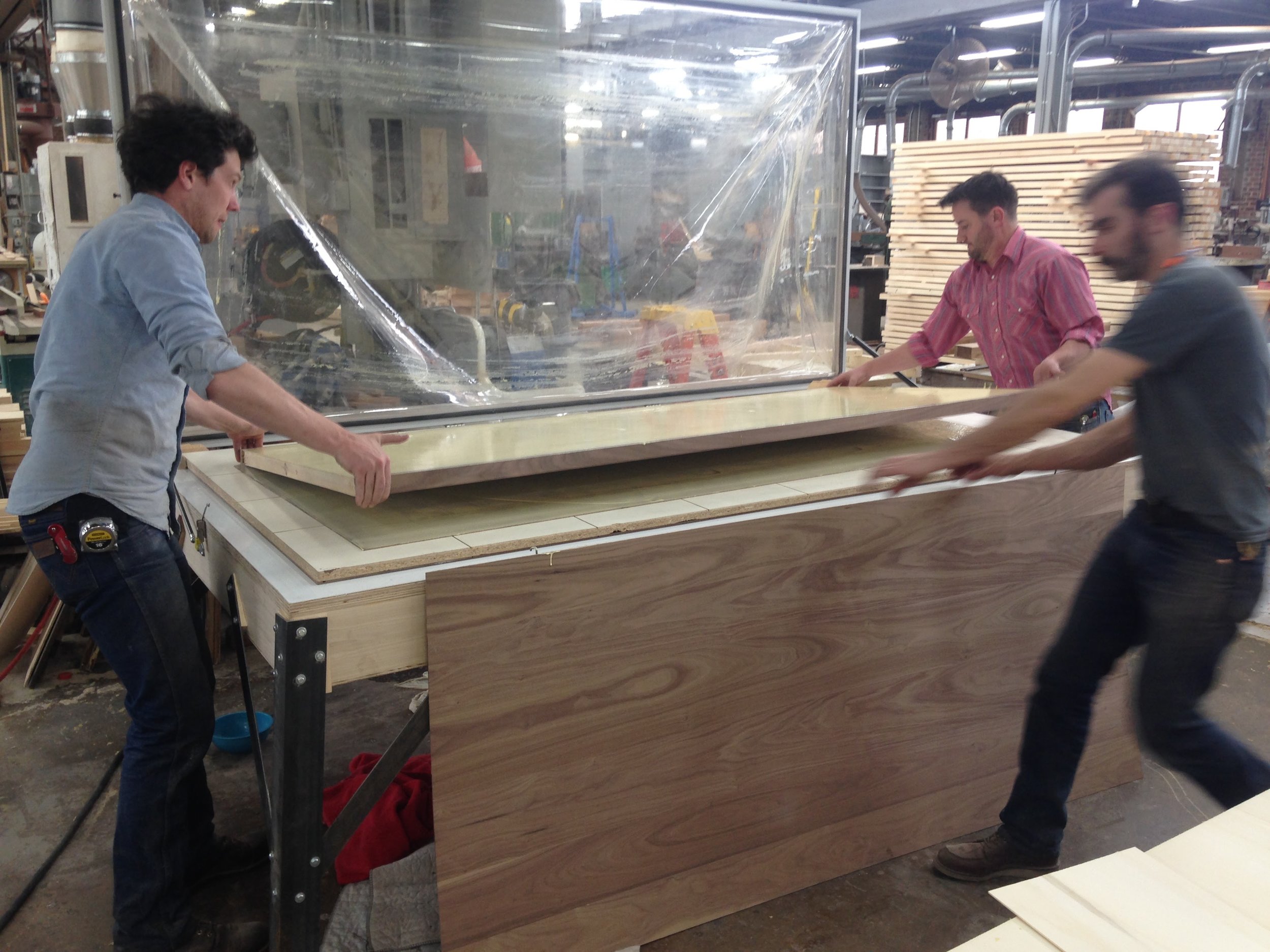 Sequence and coordination drive efficiency, as does technology. This pneumatically driven vacuum press is a beautiful and simple, effective device.
The veneer press relies on the column of air above every square inch of this planet. That column of air weighs about 14 pounds. If you take the air out from under that column, you have 14 pounds per square inch pressing on your veneer.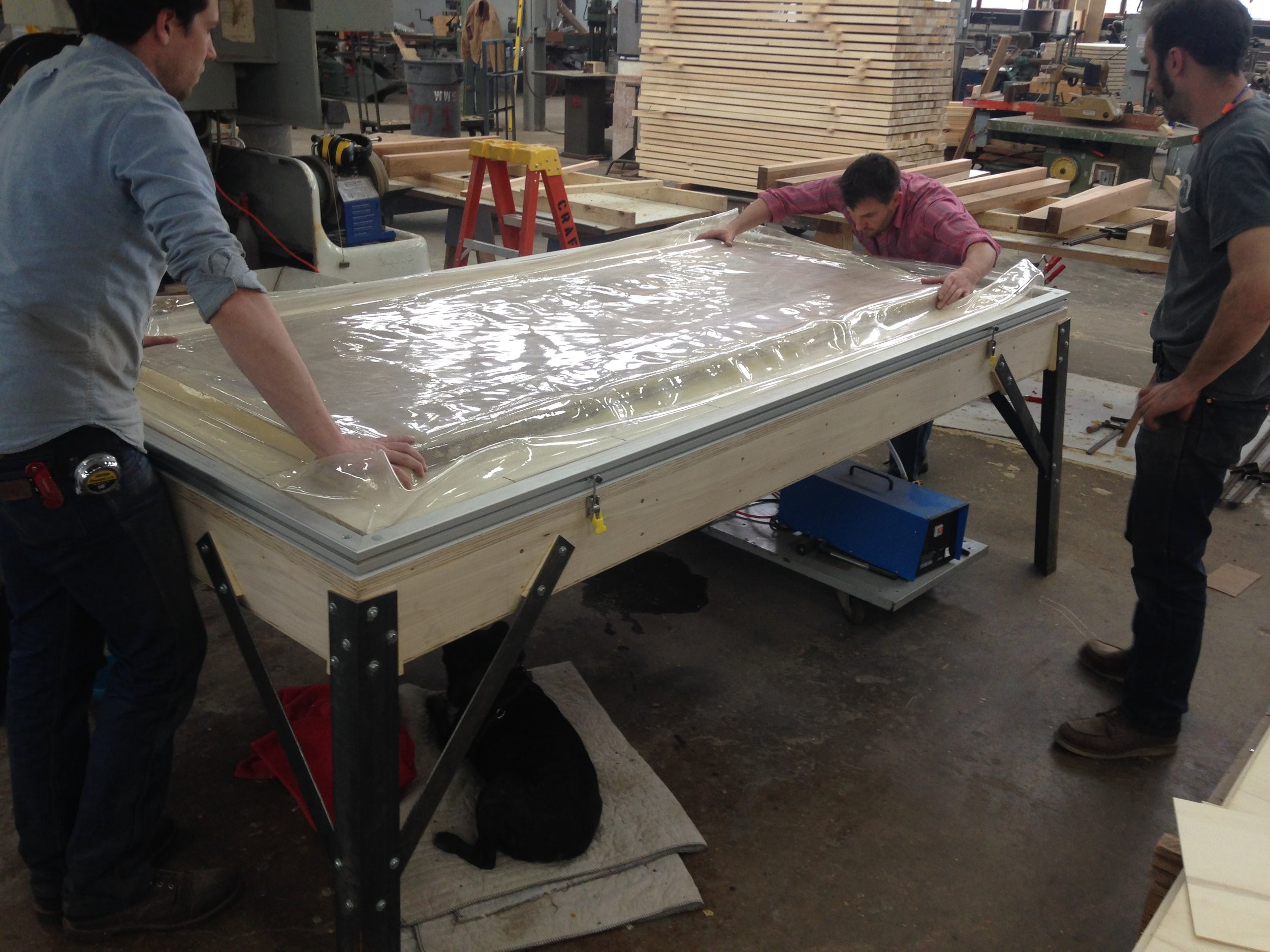 Blue box below draws a vacuum through a compressed air driven venturi pump. Jake helps settle in the bag.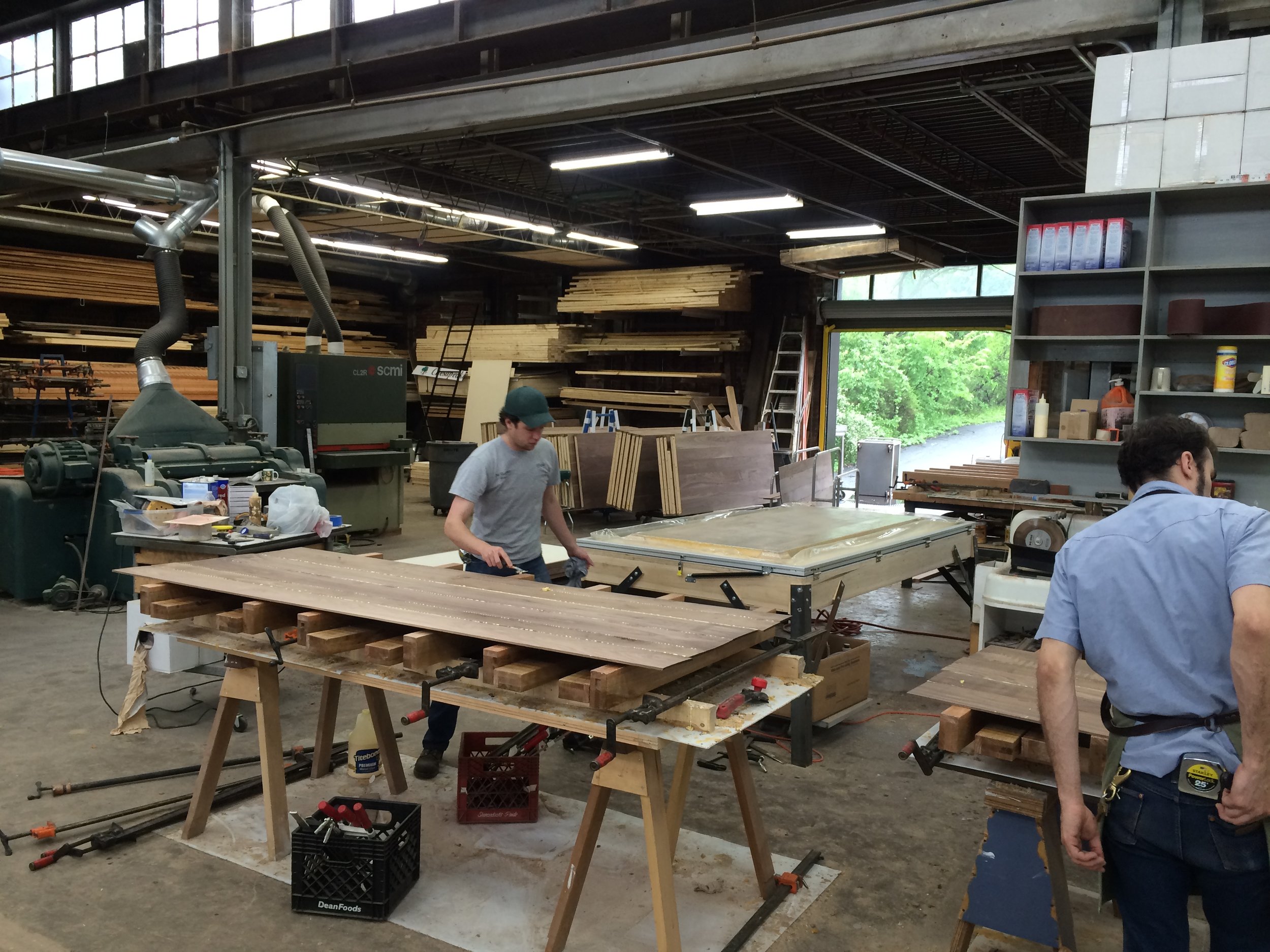 We sawed and laid up over 5,000 square feet of 1/8" thick veneer for this project. The planer in the left-rear handles 37" wide materials. It was built in the 1920s and restored here.
This run of 126 doors fills the corridor and offices on the ground floor at Rayburn. These new spaces will be the temporary offices for those congressmen displaced by the four-phase renewal at the adjacent Cannon House Office Building.
The rails and stile are our sawn veneers. In the panel field, the government specified sliced veneers. The distinction here is strong on the finished door, less so.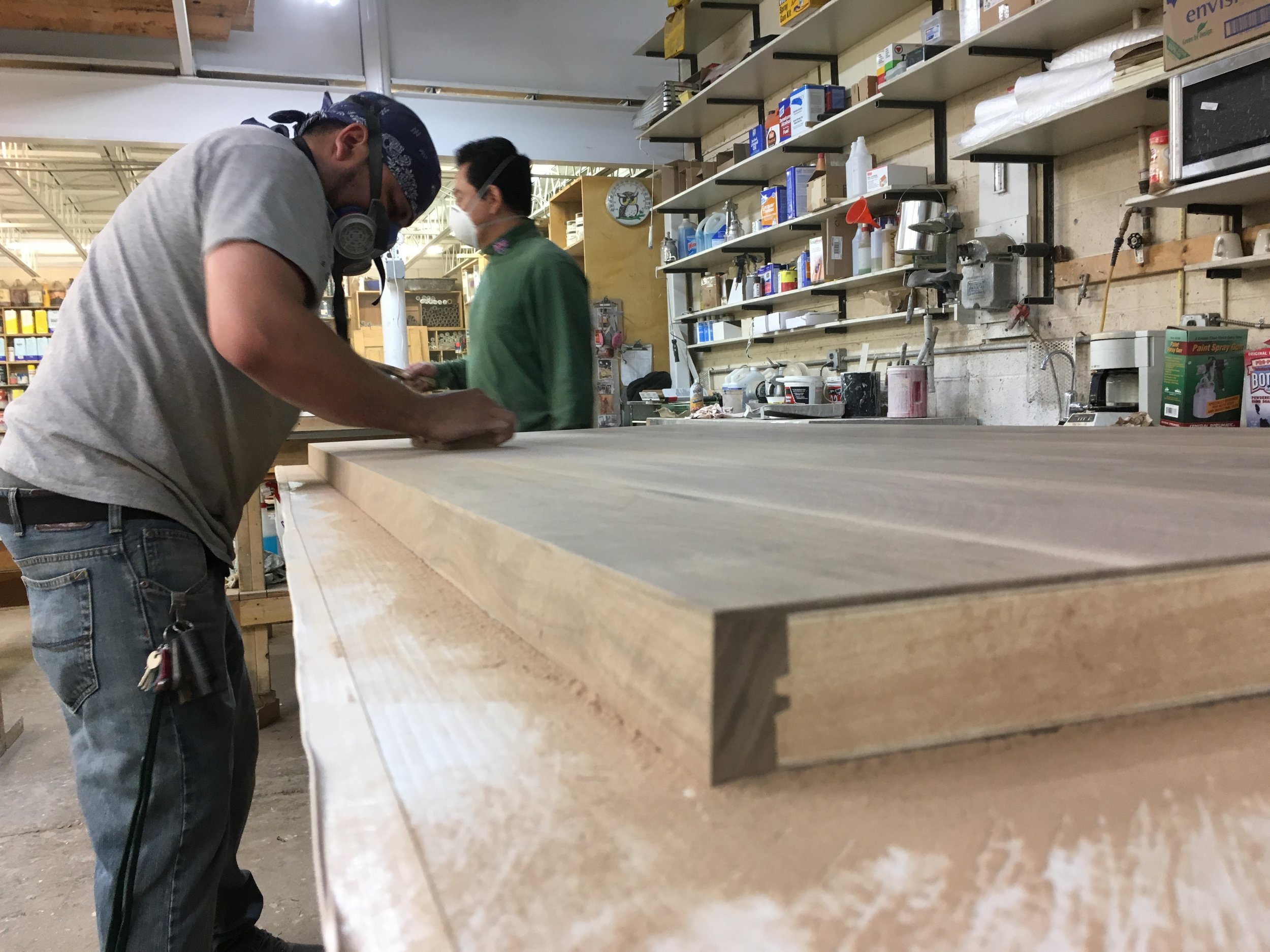 Without hand sanding as the last step, evidence of swirl and cross-grain sanding will always present through the finish.
Scrutiny from AOC was plentiful both during the process and upon completion.