Beautiful. From Fort Washington's Officers Barracks c. 1837. Lock makers are learning from firearms producers about mass production. Fifty years earlier these parts would be cut and filed by a smith. The lift off hinges feel Blacksmith-made, but in the lock is the rumblings of the Industrial Revolution.
Hundreds of pounds of solid bronze hardware from the old Department of Agriculture, now the GSA Headquarters. All was stripped, tumbled, lubricated, and used again.
GSA locks during tumbling process. Those little green tetrahedrons are the tumbler media.
This is a nice look, though not historic. The cast iron pulleys are tumbled, cleaned, and lacquered. Solid brass and slotted screw finishes it off — works even better in a stained jamb.
My experience in motorcycling, which started at nine years of age, has informed our restoration of architecture — metallurgy, physics of spinning, heat, fluids, friction, and much more. Purpose driven aesthetics and the glee of the making and fixing things that later can be enjoyed all enhance my appreciation of historic architecture .
The bike pictured here and the previous is a 1962 Triton. For me, in the late 80's, it started as a Norton frame and Triumph engine. I made all the bracketry and seat, and collected parts far and wide from many bikes. That is a wide-line Featherbed frame and a pre-unit Triumph 650 motor, two English classics from post-war England's cottage like industrial complex.
These are now not produced. Note the lefts and rights. They are laylight pivot hinges with detents. Most row house skylights were meant to function as chimneys. The curbs were ventilated and the laylight sealed things off in the summer. This excellent devise allowed the sash to be open vertically or at a 45-degree angle. We still have some in our hardware library.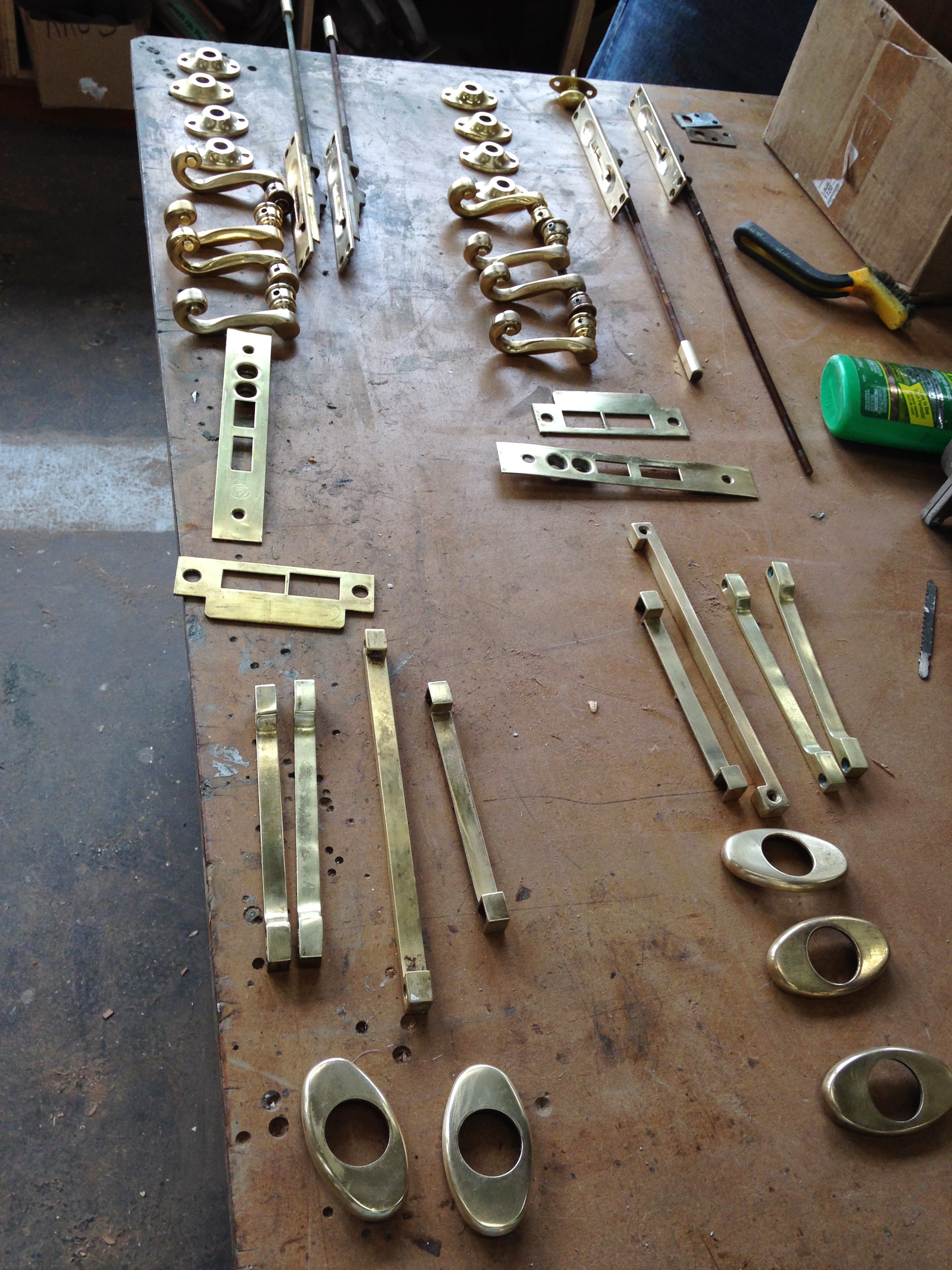 Baldwin hardware is good. This stuff, from the P. House in Georgetown, is getting a revitalization after 50 years of service.
Just a door knob. Florence, Italy.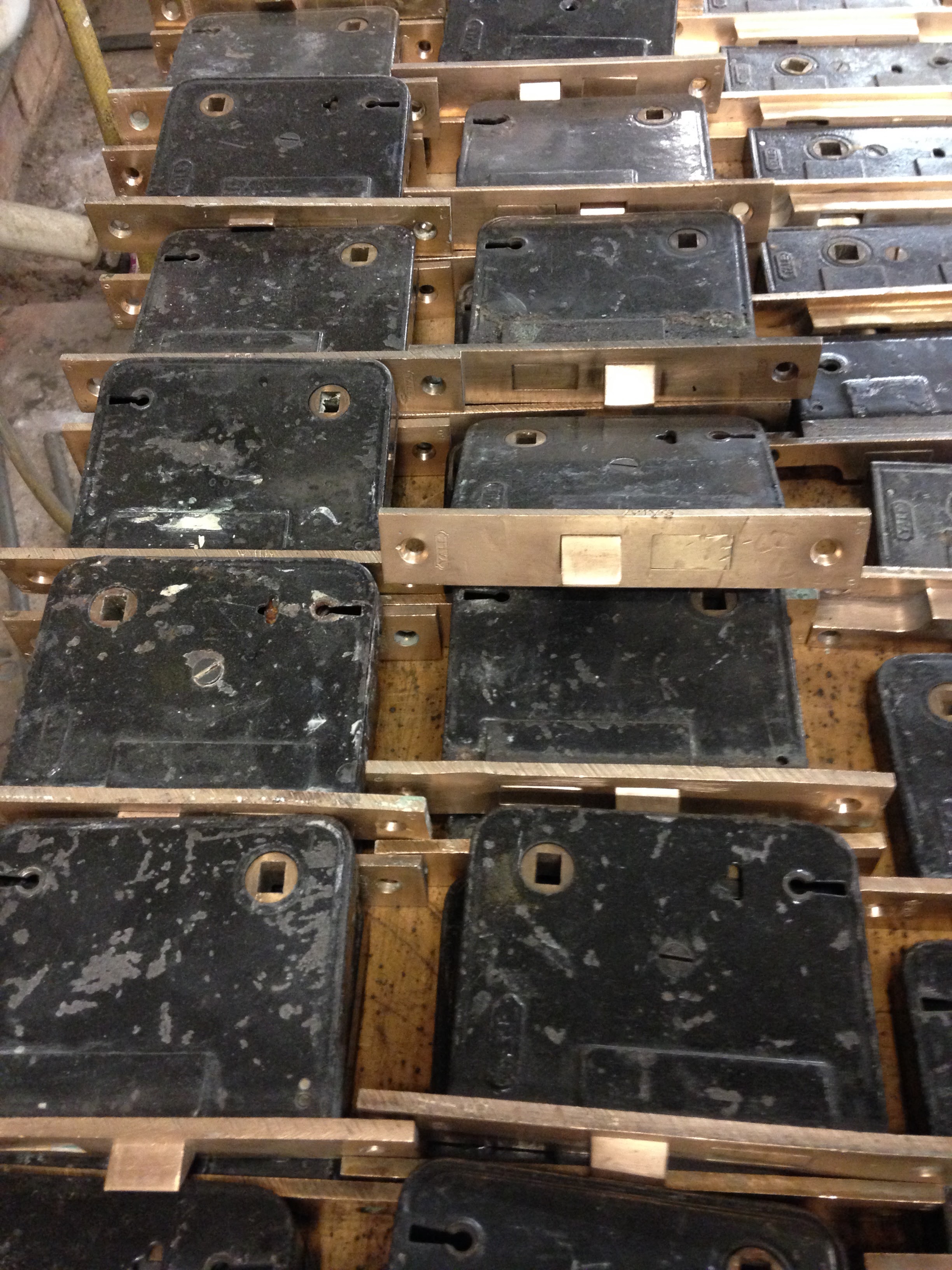 This photo and following are from the Andrew Mellon Residence at 1785 Massachusetts Avenue NW. We have restored most of this material and it is available for reuse.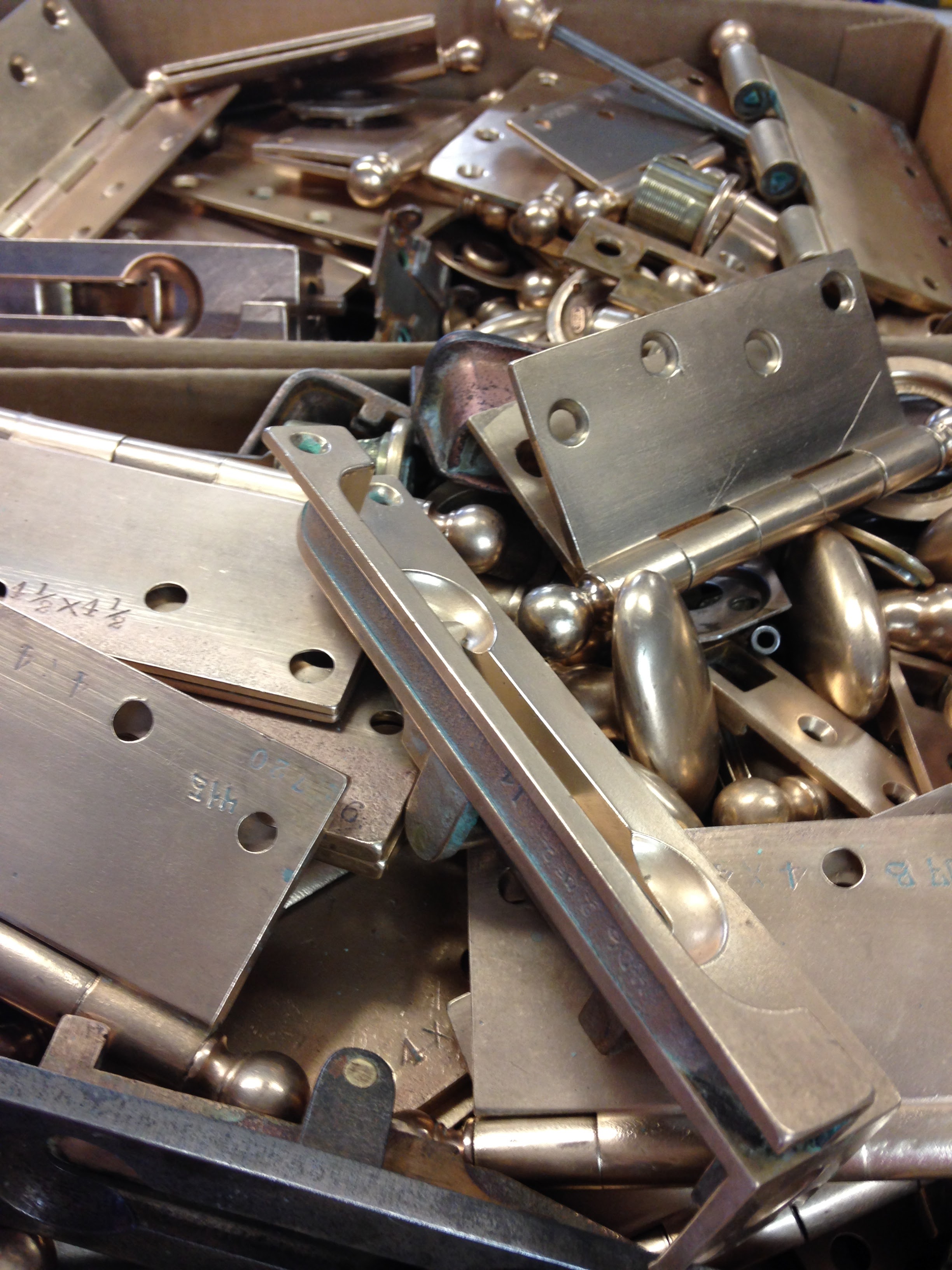 Series of pulleys from the Octagon House c. 1803.
The locks pictured here have a secondary function where they clasp the sash together — not widely used though effective where components no longer align.
These glass knobs and brass back plates are an American classic. Common in the 20s and 30s and often mounted to doors with a Deco influence, there are Victorian Regency influences here. Good stuff — a cleaning and lubrication can put another ninety years of service ahead of them.
This image and the next three are an expression of what we will do to broaden our skills base at a bit of financial loss. These escutcheons could have been bought with the latches, but at the job we only need these. We fabricated a punch die from hardened steel to create the tapered relief in the plate. Using a simple hydraulic press we could do 50 in an hour — pretty fun and knowledge gained.
Craftsmen using our preferred brass and bronze cleaner.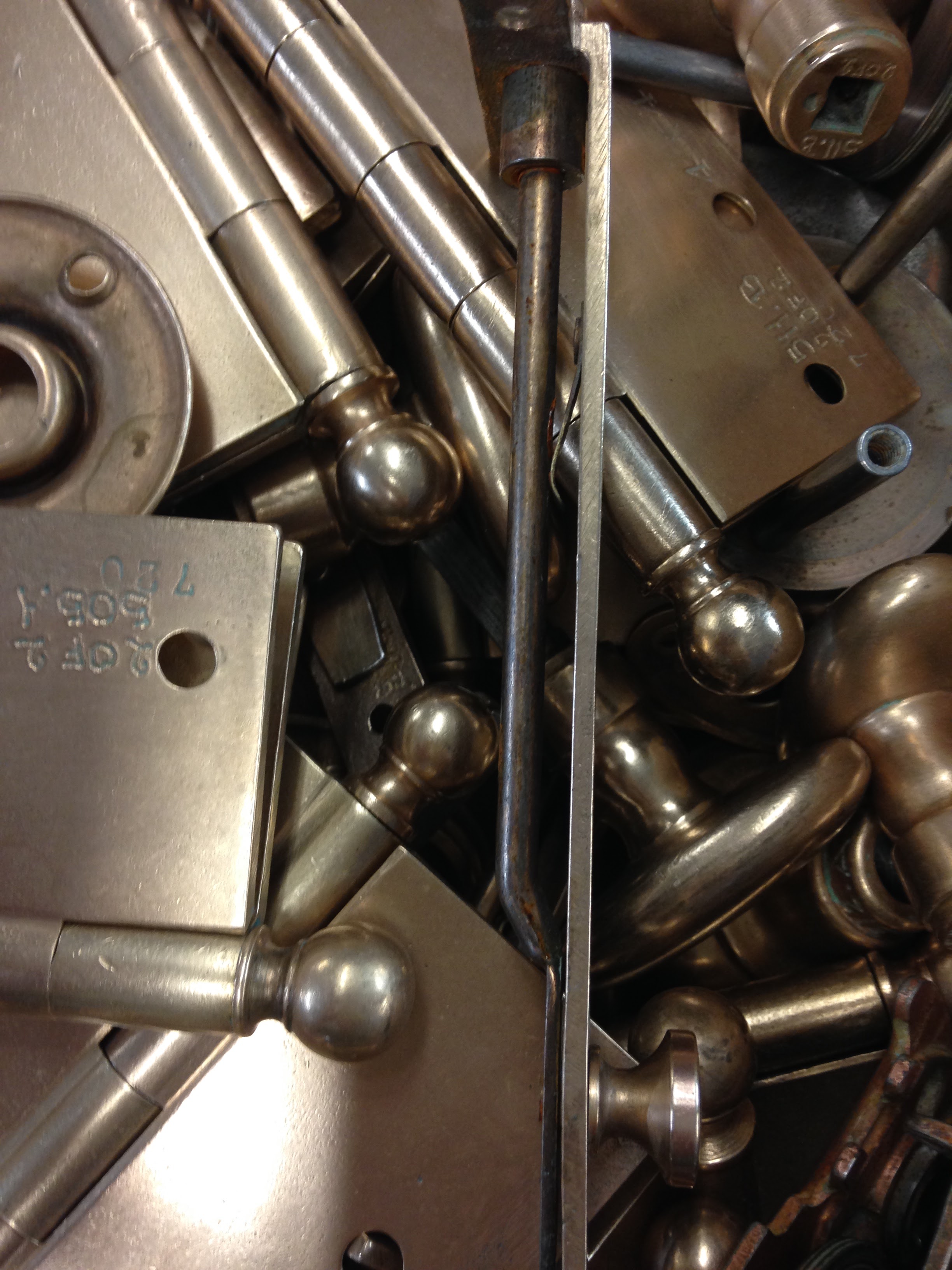 This is bronze c. 1900 period. Bronze can carry more of a golden hue rather than the yellow of brass.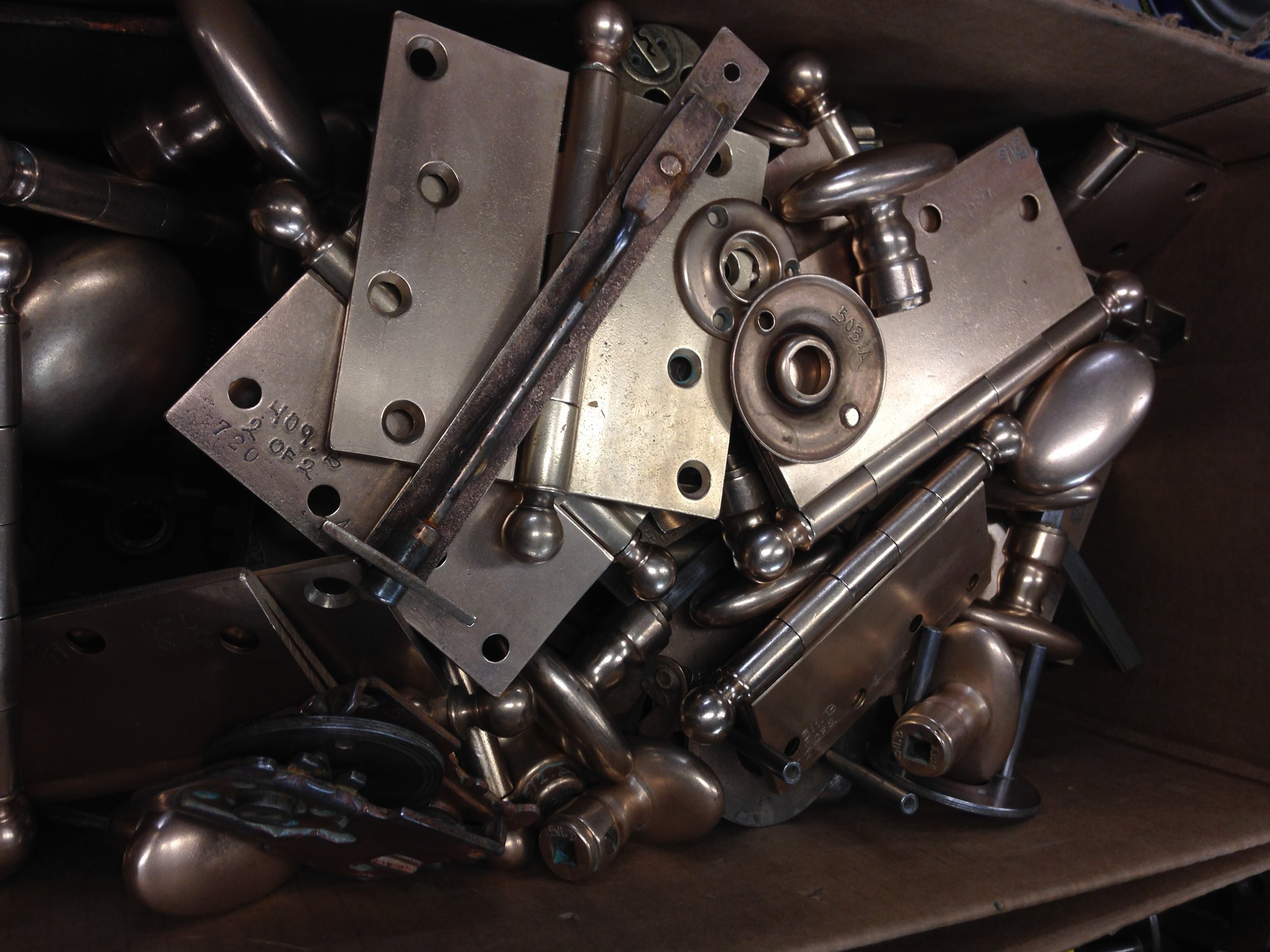 On large projects every single piece of hardware is numbered per its opening.
While the hardware industry has gone to making many finishes available on brass and bronze as seen here in a selection of sash chain available to us, we prefer solid bronze or copper-plated for most projects with chains.
This hardware is from a cow barn in Rockville, Maryland c. 1930. We stripped, tumbled, and lacquered these original pieces for their now new use as a music venue.
Hardware in process from the former Textile Museum.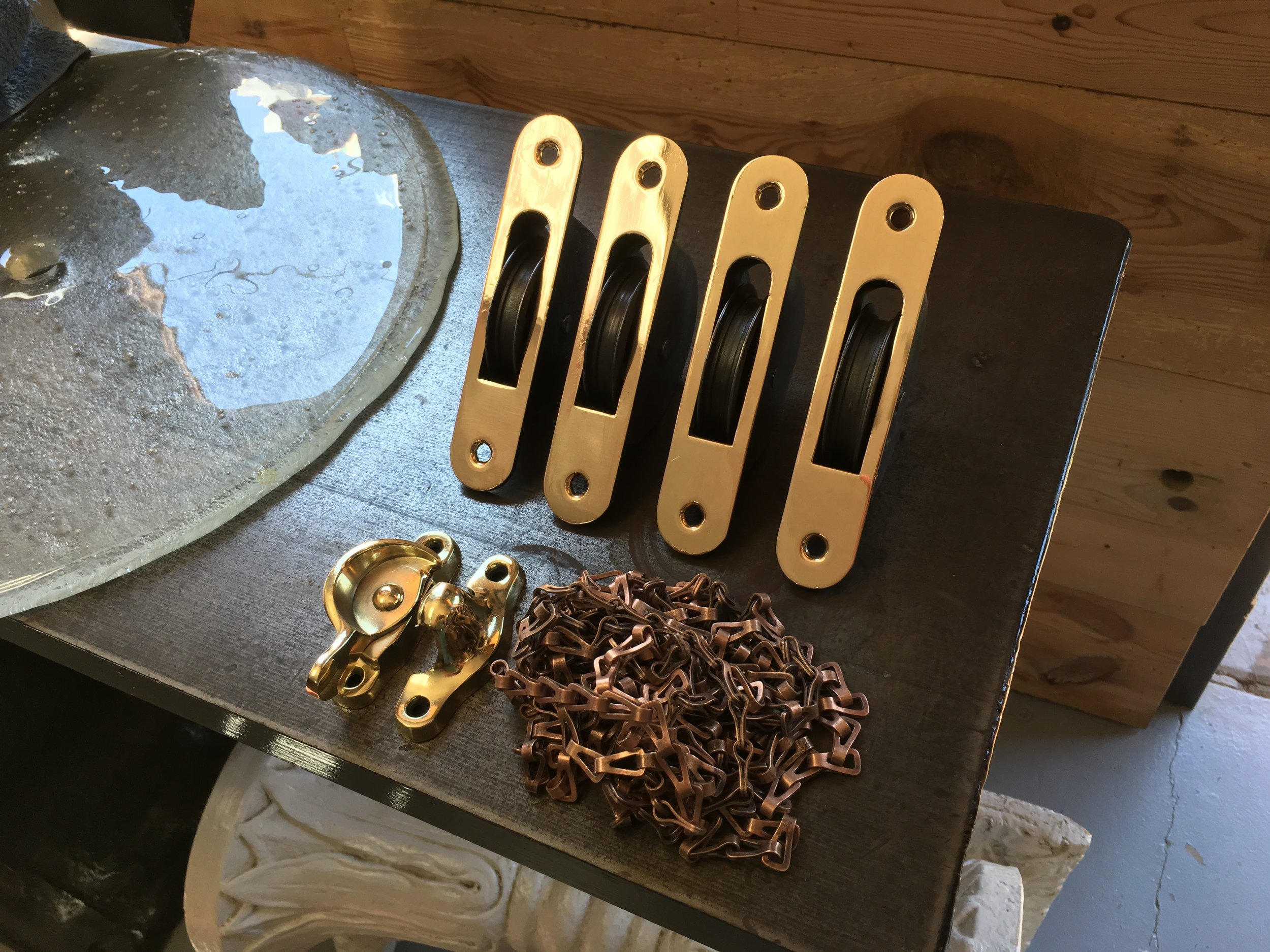 Bronze freshly out of the tumbler.

Chain does not completely clean in the tumbling process. Embedded paint is removed by hand.
These are riveted pulley housings from the mid-19th century. Later, single piece cast design was most common.